Gokinjo Monogatari (ご近所物語, lit. Neighborhood Story) is a seven-volume manga written and illustrated by Ai Yazawa. It was published by Shueisha in their magazine, Ribon from 1995 to 1997.
The anime was directed by Atsutoshi Umezawa and aired from September 10, 1995, until September 1, 1996. Rumi Shishido starred as the voice of Mikako, and performed the opening and ending songs. A short film was also released on March 2, 1996.
On August 23, 1997, an artbook called Welcome to the Gokinjo World was released.[1] Gokinjo was also adapted into a series of eight light novels by Kanae Shimokawa.
In 1999, Ai Yazawa began a sequel to Gokinjo Monogatari titled, Paradise Kiss. Though it can be considered a stand-alone sequel. Characters such as Mikako Kouda, Tsutomu Yamaguchi, Seiji Kisaragi and Ms. Hamada, appear in recurring roles.
Gokinjo Monogatari was written by Ai Yazawa and serialized in Ribon from 1995 to 1997. Shueisha published and collected all thirty-three chapters into seven volumes. Yazawa wrote a sequel to Gokinjo that was serialized in Zipper from 1999 to 2003 titled, Paradise Kiss.
In 2005, Gokinjo Monogatari was released in deluxe edition in four volumes total. The new covers were designed by Ai Yazawa, and included in each volume was an illustration gallery. The last volume was released on December 20, 2005.[2] The manga has since been republished again in five volumes.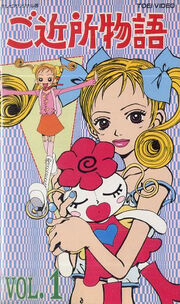 The anime of Gokinjo Monogatari aired from September 10, 1995 to September 1, 1996 for a total of fifty episodes. Rumi Shishido played the voice of Mikako Kouda, and performed the opening song, "He.Ro.I.Ne" and the ending songs, "Don't You Know?!" and "NG!." Additional voice include, Kappei Yamaguchi as Tsutomu, Shiho Niiyama as Risa, and Wakana Yamazaki as Mai Oota.
The anime was once released on VHS tapes and later released it in a DVD box set on September 28, 2005.[3]
Anime film
Edit
A short animated film was released on March 2, 1996. It serves as a alternate retelling of the beginning of the anime and lasts for about thirty minutes.
Light novels
Edit
Gokinjo Monogatari was adapted into eight light novels that were written by Kanae Shimokawa.[4] They were published by Shueisha from 1995 to late 1997. Ai Yazawa designed all the covers and the pictures inside.
References
Edit
Community content is available under
CC-BY-SA
unless otherwise noted.